The health and wellness benefits of medicinal or functional mushrooms are becoming increasingly appreciated. In this article we review and rank the five leading mushroom complex supplement brands.
Medicinal mushrooms have extraordinary health benefits, and their use dates back thousands of years. Today, with functional medicine going mainstream, we're seeing a growing interest in these incredible superfoods. Manufacturers are responding to the demand by blending beneficial ingredients to create various forms of mushroom complex supplement.
A mushroom complex supplement is used to enhance immune function, balance blood sugar, support the nervous system, and boost brain health. Mushrooms also boast antifungal and antibacterial properties.
You May Also Like:
Exposure to Natural Light During the Day May Help You Sleep Better
Topical Finasteride for Hair Loss: How Well Does It Work?
A quality mushroom complex supplement contains a wide variety of vitamins, antioxidants, and special polysaccharides called beta-glucans, which have a variety of health benefits for heart health, blood sugar control, and most importantly, for modulating the immune system. The beneficial active compounds in functional mushrooms are found in the mushroom fruiting body.
However, many mushroom supplements on the market are derived from mycelium on grain. Mycelium is the vegetative root of the mushroom that typically grows underground. Mycelium on grain supplements contain only trace amounts of beta-glucans.
The best ingredients in a mushroom complex supplement
The best ingredients in a mushroom complex supplement are backed by scientific research. A nourishing mushroom complex supplement will often contain Reishi mushroom, Turkey Tail, shiitake, maitake, and Chaga.
Reishi, called "the king of mushrooms" has anti-inflammatory properties. Furthermore, the beta-glucans in Reishi have been shown to support the immune system, calm the mind, reduce stress, and balance blood sugar levels. Triterpenes in Reishi may also inhibit the growth of tumors.
Shiitake mushroomshelp tosupport immunity, strengthen the liver, and maintain a healthy cardiovascular system.
Maitake mushroom's key component is beta-glucan. Scientific research has shown that beta-glucans enhance immune function by stimulating natural killer cells.
Turkey Tail contains powerful immune-boosting properties that promote immune response by activating and inhibiting specific types of immune cells and suppressing inflammation. One study showed that daily treatment with Turkey Tail extract slowed the spread of cancer cells in dogs with highly aggressive cancer.
Chaga, while not really a mushroom, is rich in immune-enhancing beta-glucans. Studies show promising health benefits due to its antioxidant, anti-inflammatory, and antimicrobial properties. It's also an adaptogen, containing herbal components that modulate the adrenal system. A reduction in inflammation and oxidative stress can help reduce the physical signs of aging.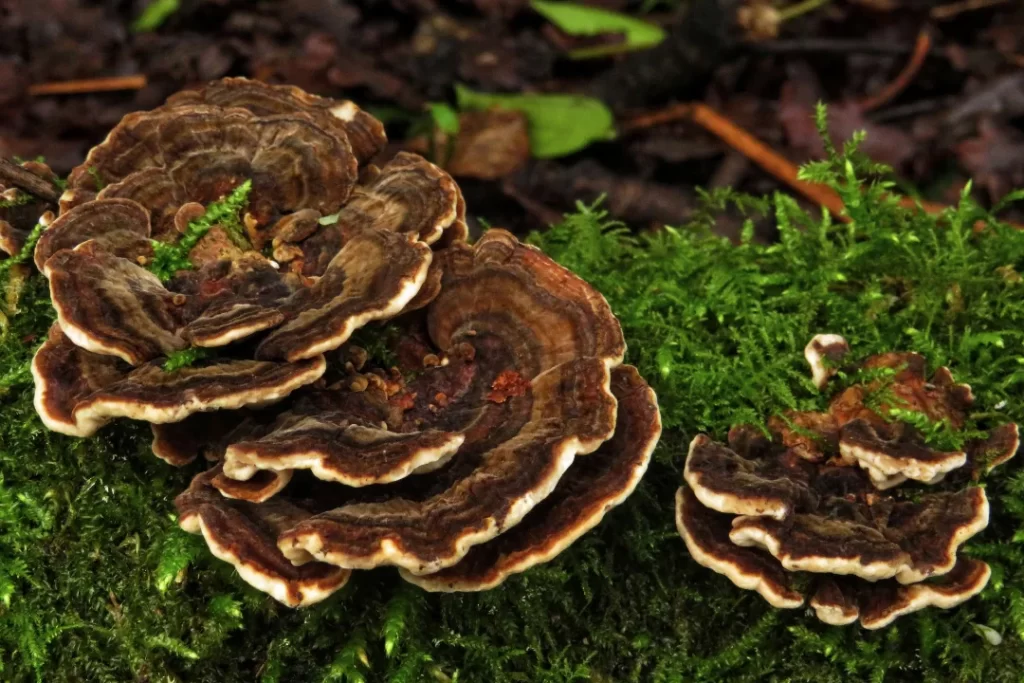 Top 5 Brands of Mushroom Complex Supplement
The top 5 mushroom complex supplement brands are:
#5: Double Wood Mushroom Max contains a blend of the top 10 essential mushrooms, including Turkey Tail, Reishi, Chaga, shiitake, and maitake. It's a mushroom complex supplement designed to support the immune system, improve cognitive function, and reduce fatigue. All its mushrooms are grown and manufactured in the U.S.
#4: EcoNugenics – Ten Mushroom Formula is a mushroom complex supplement containing ten varieties of U.S.-grown mushrooms. This product claims to support the immune system and total body wellness. Its formula is fortified with beta-glucans but also contains myceliated grains.
#3: Dr. Danielle Vegan Mushroom Complex is a blend of functional mushrooms for wellness, stress relief, memory, and cognitive support. It's a mushroom complex supplement that supports the body's natural immune system defenses. Dr. Danielle is a certified biochemist, naturopathic doctor, and licensed physician with scientific knowledge about the ingredients in her products.
#2: FreshCap Ultimate Mushroom Complex is a potent mushroom complex supplement made from organic whole fruiting bodies which are thoroughly extracted and tested for bio-active compounds. FreshCap is a blend of six functional mushrooms, which are pure extracts without grain fillers.
#1: Real Mushrooms 5 Defenders is the number one mushroom complex supplement for immune strength, antioxidant potency, and cardiovascular benefits. Each capsule contains a blend of Reishi, Turkey Tail, maitake, shiitake, and Chaga extract. Real Mushrooms' products are cultivated sustainably and contain certified organic mushrooms. Because all Real Mushrooms products are extracted from mushroom fruiting bodies, they have measured levels of beneficial beta-glucans, which are verified by third-party laboratories. All Real Mushrooms products contain no grains, mycelium, or fillers.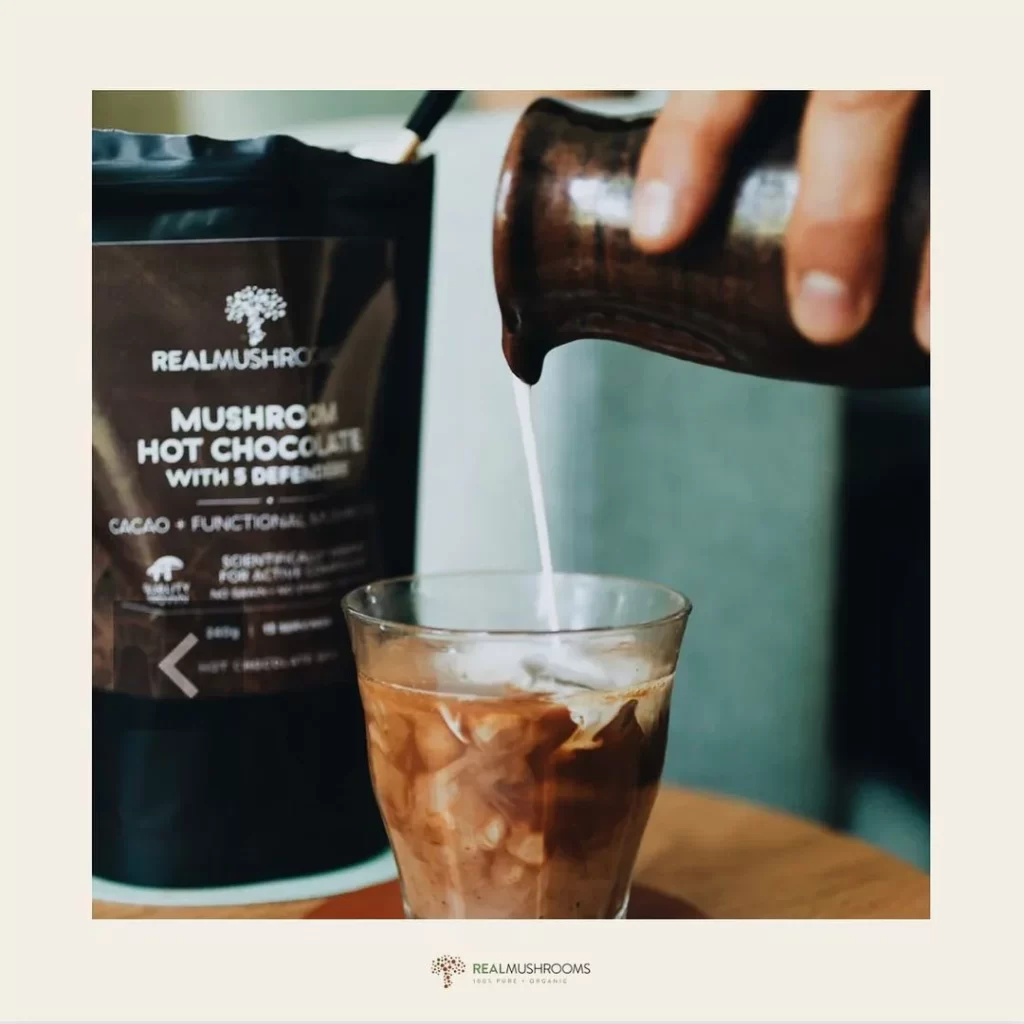 Real Mushrooms 5 Defenders is the best mushroom complex supplement
Real Mushrooms 5 Defenders Organic Mushroom Blend is extracted from 100% fruiting bodies ensuring that consumers receive beneficial beta-glucans, the most powerful immune-activating phytochemicals found in a mushroom complex supplement. Beta-glucans are the main active ingredient to support immune defense.
Unlike many other products labeled as mushroom complex supplements, Real Mushrooms 5 Defenders does not contain any mycelium substrate matter or gain fillers. As indicated on the list of ingredients, there is more than 20% beta-glucan in each serving.
Real Mushrooms' founder is Skye Chilton, whose father, Jeff, is a medicinal mushroom pioneer. Jeff Chilton, who has been in the medicinal mushroom business for 40 years, wrote a white paper that tested 50 different products. Skye says, "My father looked for beta-glucan compounds, which are the main immunological compounds in the mushrooms. Some of the mushrooms tested had next to no beta-glucans. Some of the products were starch compounds, almost pure filler."
Every batch of Real Mushrooms 5 Defenders goes through rigorous quality control tests to ensure purity and safety. Real Mushrooms products are based on science, and their ingredients are verified by third parties to ensure potency and effectiveness for beta-glucans, the most researched immune-boosting compounds in mushrooms.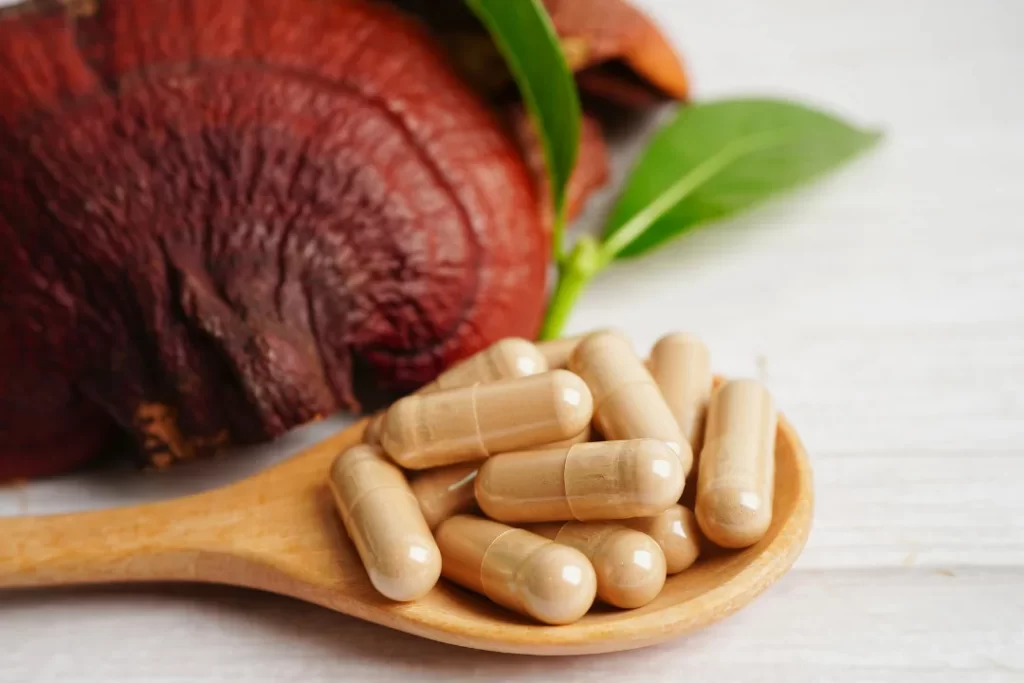 The best ingredients for immune strength are available to you in a mushroom complex supplement
Now that you are aware of the best ingredients in mushroom complex supplements for immune support, antioxidant potency, and cardiovascular health, you can decide which product is best for you. You might want to do more research (we've provided additional links below). The important factors to consider when choosing a mushroom complex supplement are the percentage of beneficial beta-glucans in the blend, and whether the extracts are 100% fruiting bodies or the more inferior quality mycelium, grain, or fillers. With the right mushroom complex supplement, you can be on your way to enjoying a longer, healthier life.
For additional reference:
The Mushroom Council: The benefits of mushrooms
Nammex: Beta-glucan paper confirms Nammex white paper findings
Health Shots: 6 Mind-blowing reasons why mushroom is the ultimate vegetarian superfood
Important Note: The information contained in this article is for general informational purposes only and should not be construed as health or medical advice, nor is it intended to diagnose, prevent, treat, or cure any disease or health condition. Before embarking on any diet, fitness regimen, or program of nutritional supplementation, it is advisable to consult your healthcare professional in order to determine its safety and probable efficacy in terms of your individual state of health.
Regarding Nutritional Supplements Or Other Non-Prescription Health Products: If any nutritional supplements or other non-prescription health products are mentioned in the foregoing article, any claims or statements made about them have not be evaluated by the U.S. Food and Drug Administration, and such nutritional supplements or other health products are not intended to diagnose, treat, cure, or prevent any disease.